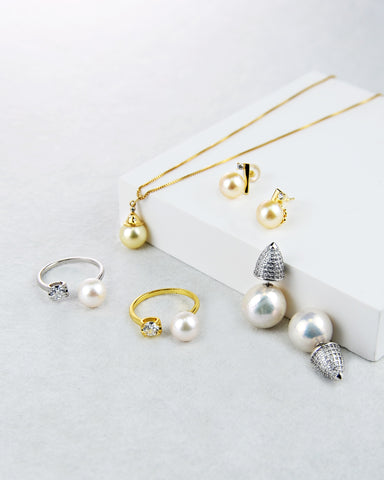 We are reinventing Pearl Fashion.
Since ancient times and through humankind history, pearls are considered the ultimate symbol of wisdom. Pearls are valued for their calming effects, representing tranquility, while strengthening valuable relationships and conveying a sense of security. The pearl also symbolizes purity, integrity and loyalty.

At Moon's Wish, we are reinventing the way we carry and wear pearls.

We are committed to create the most beautiful pearls jewelry in the world, so that everyone of our customers can carry the power of pearls at all times and face different life situations with the help of their positive energy, while not compromising on their style.

Our designs are fully handmade and made in-house, created especially for you.

How it's made matters
In a world where many artisan goods are produced in factories and peddled by mass marketing campaigns, Moon's Wish Jewelry was created in hopes of connecting you to something truly authentic.

All our products are handmade by working moms at their homes. This way, we help them with an extra income source without having to sacrifice precious time with their children. We're deeply devoted to quality – both in the products we make and the quality of life we aim to provide. We invest in, train, and educate women so they can earn a living, break the cycle of poverty, have more time with their children and thrive.

We realized our customers have the purchasing power to provide dignified job opportunities to working moms all over the globe, and Moon's Wish Jewelry gets to be the gateway. With every purchase, you are part of this purpose, of bringing work, hope, and empowerment for more homes.

Our mission is to bring to our customers all over the world, special jewelry pieces and earthly designs that will share with them the incredible energy of these amazing locations.
Reduce, Reuse, Recycle.
At Moon's Wish Jewellery, we're not perfect but we do our very best to create eco-friendly, ethical and sustainable jewellery - and we're always striving to improve where we can.
We use gemstones in jewelry design. For gems that may be of high value and cannot be guaranteed to come from ethical sources, we try to source lab-grown or simulated gems as an alternative. In addition to environmental and ethical benefits, lab-grown gemstones have beautiful clarity and color and are much less expensive. We also use natural gemstones, but usually at lower prices and with fewer ethical issues associated with them.
The pearls used in our products are obtained in an environmentally friendly and marine animal-friendly manner.
Our products use 100% recycled gold and silver.